Shopping Cart
Your shopping cart is empty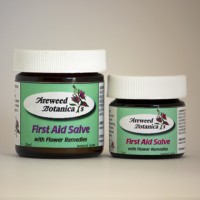 50 ml. $21.00
25 ml. $14.00
One of my most popular products, this synergistic healing salve consists of 10 medicinal herbs made from local wild & organically grown plants.
Anti-viral, anti-microbial, anti-inflammatory, disinfectant, antibiotic & skin rejuvenating properties.
Helps prevent & clear infection, scarring & speeds healing while easing the pain associated with: cuts, burns, insect bites, rashes, itchy skin, bed sores, surgery incisions, chapped lips, mild eczema, hemorrhoids & more.